IPHIS
Presented by Lyric Opera Melbourne
Theatre Works August, 2022
Set + Costume Designer
Directed by Katy Maudlin
Performed by Morgan Carter, Troy Castle, Timothy Daly, Nicole Wallace, Douglas Kelly, Breanna Stuart.
Conductor Patrick Burns
Set Design Assistant Moya O'Brien
Lighting Design Richard Vabre
Stage Management Jess Keepence
Photography Darren Gill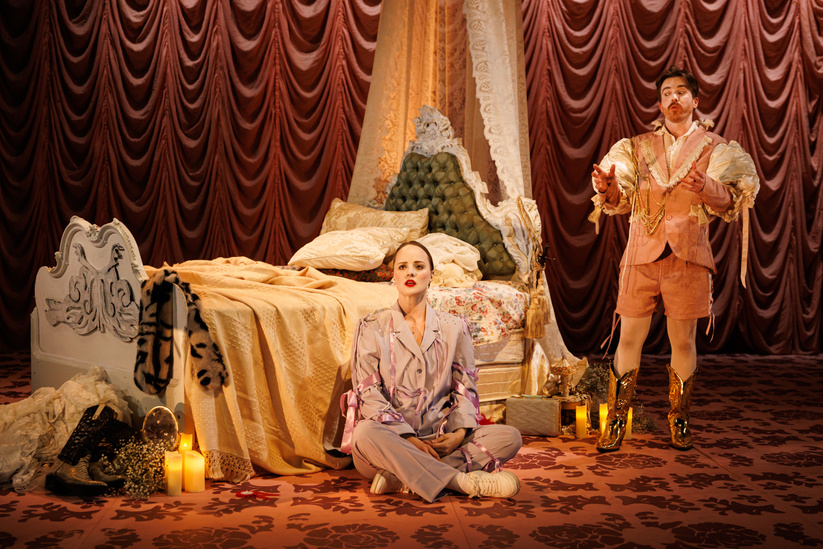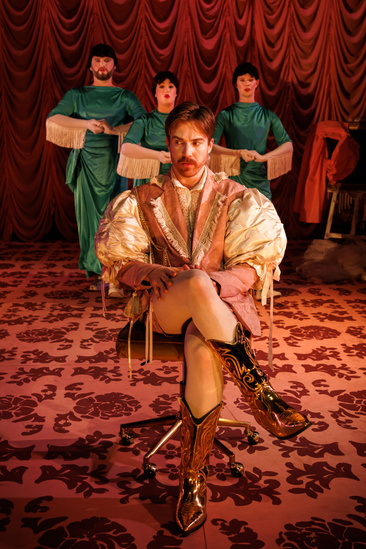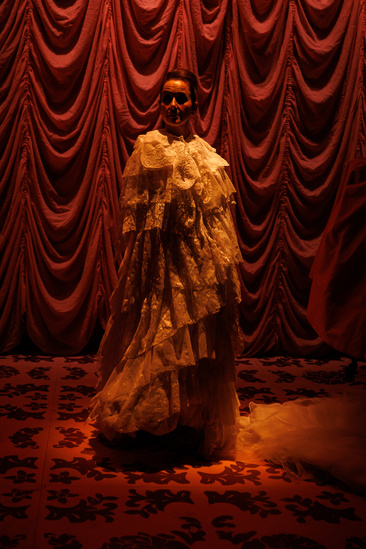 REVIEWS
"Brynna Lowen's gorgeous set design conveys the wealth and aristocracy that this family possesses, with lavish pink curtains running along the back of the stage and a bed with an extravagant frame adorned with numerous sheets, pillows and candles. The lighting by Richard Vabre further highlights this life of excess as it reveals the thoughts and feelings of the characters and reinforces the tone of the opera."
- My Melbourne Arts
20 August, 2022
(http://www.mymelbournearts.com/2022/08/iphis-review.html)
"Brynna Lowen's set design was visually striking and functional. An enormous ruched dusty-pink curtain covered the back of the performance area, which was paved in a matching pink tiles stylishly patterned with roses. A bed with a lacy canopy and a mirror draped with what proved to be a pink dress completed the ultra feminine setting.
Most of Lowen's costumes also emphasised the feminine. Even Lidgus' suit sported frills and pink ribbons, suggesting he was perhaps doomed from the start – a notion further reinforced by his removing much of his costume before finally storming off. When Telethusa first revealed her pregnant state, the playfulness of her costume, with its frilly red cushion of a baby bump, had the audience laughing in surprised delight. Daly and Castle had some very quick costume changes as they moved between their multiple roles of Gods 1 and 2, midwives, educators and wedding guests. It was remarkable how smoothly they managed these lightning transitions given that the costumes were substantially different."
- Classic Melbourne, Music News + Reviews, Heather Leviston
Sep 1, 2022
(https://www.classicmelbourne.com.au/lyric-opera-and-theatre-works-iphis/)
"Katy Maudlin's production however excels at amplifying the strength with an insightful, clever, and energetic presentation, gamely designed by Brynna Lowen. Maudlin, who incidentally gave a wonderful recently in Artshub about the dire need for local development opportunities for women directors, uses a high camp style influenced by the excesses of 17th century aestheticism where affluent masculinity and femininity is characterised by competing expressions of vanity and pomp. Lowen, really goes to town with this interpretation by featuring lush, confectionary designs that combine French restoration with modern street wear with an excess of pastels, lace, and ribbons; it is an aesthetic that utilises lush extravagance but under certain lights and angles looks like it is moulting, and poisonous Richard Vabre does some excellent work with evoking different moods with his lighting design.
...Imperious soprano Nicole Wallace as Telethusa combines a frivolous, 'shrewish' countenance (her pregnancy belly is a stroke of innovation by Lowen) with very deep fear and self-preservation instincts when she is around her vile husband, Lidgus played and sung with predatory pomposity by Douglas Kelly."
- Theatre Matters, by Kris Weber.
Aug 29, 2022

"A sense of sumptuousness is evoked via a spareness in staging by designer Brynna Lowen and Richard Vabre's juicy lighting."
"Costumes are fashioned with vividness and humour, with the sum of all creative efforts feeling inseparably fused to the music and libretto. The same applies to the young artists who showed themselves to be a an excellent team of singers and actors. "
"By the way, Telethusa's baby bump is a beautiful rosette appendage and, to add, it's likely no birth on stage has ever been so artfully achieved. "
- Australian Arts Review, Paul Selar
Aug 28, 2022
(https://artsreview.com.au/iphis-2/)